There is nothing worse than having a tree fall on your home, car, or business. The last thing you want to do is hire the first tree service company that comes along. How do you know which one is the best? There are many factors that go into hiring a company, so ensure you look at all of them before making your decision. Here are four things to pay attention to when looking for a tree service company so that you can make an educated and informed choice.
Safety
They should have a written safety plan with specific policies and procedures to ensure that they operate safely on your property. You want to make sure that the workers wear protective gear such as hardhats, gloves, face protection, life jackets worn when working around water or at height. Any tree service company you hire must be insured and have workers compensation to cater for any unexpected accidents.
The company should also have a list of references and testimonials from previous customers so that you can see how they operate in the field before making your final decision. Any tree service business worth their salt will be professional, reputable, insured and experienced, with customer satisfaction at the forefront of their mission statement.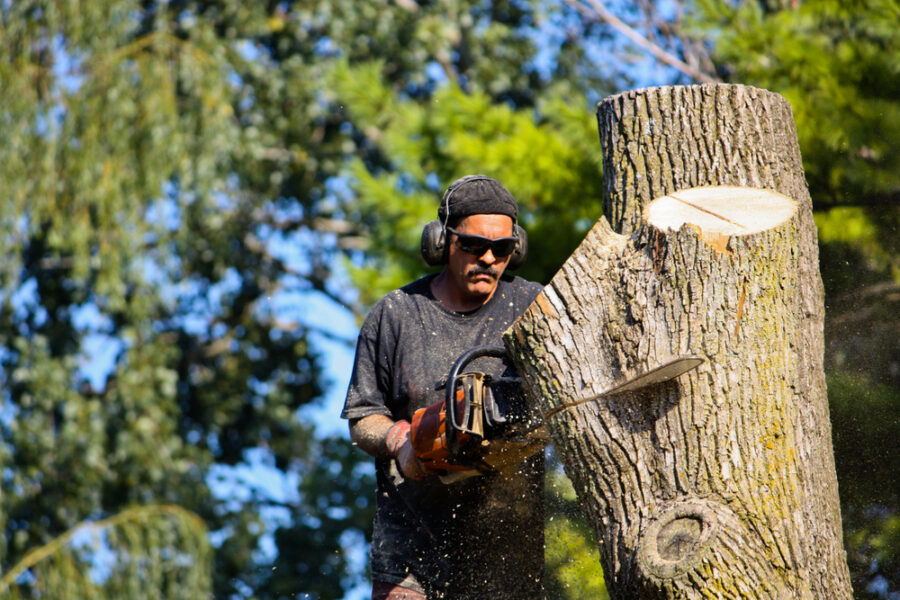 Customer Service
The company should have excellent customer service to answer all of your questions before, during and after the tree trimming or removal project is finished. This includes having up-to-date resources such as a website with photos of past projects along with recommendations from previous satisfied customers.
They should also have a policy for any complaints or problems that may arise to resolve them quickly and efficiently if they occur. Any company worth their salt would guarantee a high level of satisfaction with their work and should be able to offer you a written warranty.
Professionalism
You want to be sure you hire a company with professional workers who will show up on time. The employees should also have uniforms and arrive in clean, well-maintained vehicles that don't leave behind any oil or grease stains. They must have the necessary equipment to complete the job safely and efficiently.
Any well-established company will have the following equipment:
Ladders
Professional tree service companies will have a variety of ladders and access equipment to ensure that they can reach all parts of the trees. They should be able to bring: A bucket truck, an aerial lift or boom (off-road capable), a cherry picker, scissor ladder. It is vital that the company has suitable types of ladders for different sized trees.
Tree Removal Equipment
The company should also have various equipment to help them remove fallen or damaged trees safely and quickly. They need to bring powerful winches, chokers, cable skids, rigging hardware, tree spades and rakes. They must have the right equipment for different types of trees and terrain because some jobs will be too challenging to complete safely or efficiently with a simple chainsaw.
Brush Removal Equipment
The company should have brush removal equipment such as wood chippers, mulchers and stump grinders because this will speed up their work and help them finish the job more quickly.
Experience
The company has a long history of experience in the field and plenty of satisfied customers to show for it. Any reputable tree service business will be able to provide you with references from previous jobs as well as offer a list of qualifications and certifications they hold.
The company should also have a license with the city or county in which they operate. Check online to verify that the business you hire is reputable and has an established track record of satisfied customers before making your final decision. An experienced company will be vast in offering services like tree removal, tree pruning and trimming, stump grinding or wood chipping.
Efficient Tree Service Company
These are just a few of the things you should pay attention to when looking for a tree service company, but there is one thing that stands above all others; efficiency. You want to make sure that they offer an excellent value by removing your trees quickly and safely while also offering competitive prices. If the company you hire isn't efficient, they will most likely do a poor job and take longer than they said to complete it, which means your money is wasted. They also may even cause damage during their work, such as broken branches or uprooted trees that can cost extra for removal or repairs.
If you are looking for a tree service company, there is no other place to be rather than Lawn Worx. Our team has over twenty years combined experience in the field, in addition to all necessary qualifications and certifications needed for us to offer our services. If you are looking for a company with excellent customer service, safety standards, experienced workers, or any other tree service needs in your area, contact Lawn Worx today. We guarantee satisfaction with every job we do! We have an A+ rating, so you know your money is safe with us.